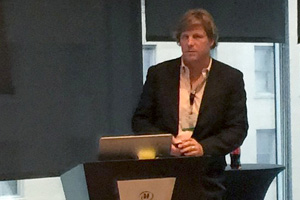 (November 15, 2019) – On Tuesday, November 12th, Fuse's Director of Engineering, Dell Kronewitter, PhD, presented at MILCOM for Track 5: Big Data and [Machine Learning] for Tactical Networks, an unclassified technical paper session. Dell presented the paper, "A Cognitive [Machine Learning] Agent for Airborne Networking," written by himself and software engineer Kenneth Oliphant.
Their research presents a deep reinforcement learning architecture specifically designed to improve wireless network performance over a heterogeneous airborne wireless network consisting of multiple waveforms, antennas, platforms, link protocols, frequencies, spatial transmission, and codes. Training and validation of the agent is accomplished using the Fuse-developed Tactical Airborne Network Simulator (TANS) based on EMANE, a framework for real-time modeling of mobile network systems developed by the Naval Research Laboratory. The paper has been published in the IEEE MILCOM 2019 Conference Proceedings and is available on IEEE Xplore.
MILCOM, short for "military communications" conference, was held this year in Norfolk, Virginia, from November 12th to November 14th. The conference gathered military and industry communications professionals for a series of technical presentations, discussions, and tutorials about the latest in C4ISR (command, control, communications, computing, intelligence, surveillance, and reconnaissance) challenges.
Congratulations to Dell for a successful presentation and to him and Kenneth for the recognition of their hard work in the fields of machine learning and airborne networking. Fuse is proud to call you part of our team!