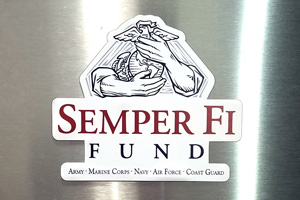 (December 17, 2019) – This afternoon, Fuse CEO Sumner Lee and Ashley Kozak presented a donation of $1,750 to Semper Fi Fund, represented by Vanessa Keane. The first half of the funds raised were generously donated by individual Fuse team members, which were then matched by Fuse. Excitingly, the value of Fuse's total donation will be doubled again—bringing the total value of the donation to $3,500—thanks to the Bob & Renee Parsons Foundation, which is matching all donations to Semper Fi Fund made until December 31st up to $10 million.
The Semper Fi Fund is a nonprofit organization that provides immediate financial assistance and lifetime support to combat-wounded, critically ill, and catastrophically injured members of all branches of the US Armed Forces and their families. Their programs focus on service member and family support, the transition from injury to successful recovery and reintegration into communities, and integrative wellness.
Fuse's team fundraiser was organized by Ashley Kozak and took place over a two week long period starting the day after Fuse's 9th anniversary and ending on the Friday before Veteran's Day. This was Fuse's second annual fundraiser to support our country's warfighters and veterans. Fuse is proud of the team's charitable contributions, which represent the true, cumulative extension of the Fuse mantra, "Warfighter Focused Engineering and Design."
We thank Vanessa Keane for coming down for the presentation to visit our new office in Kearny Mesa, and we highly encourage readers to consider helping Semper Fi Fund reach its $10 million goal!