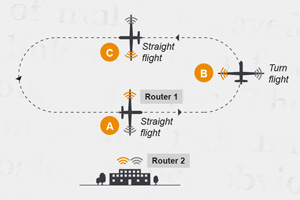 (August 9, 2019) – Fuse is excited that a paper written by our Director of Engineering, Dell Kronewitter, and software engineer, Kenneth Oliphant, has been accepted for the proceedings of the MILCOM 2019 Track 5 – Big Data and Machine Learning. Dell will also present the paper, "A Cognitive [Machine Learning] Agent for Airborne Networking," at MILCOM Track 5.
Their research presents a deep reinforcement learning architecture specifically designed to improve wireless network performance over a heterogeneous airborne wireless network consisting of multiple waveforms, antennas, platforms, link protocols, frequencies, spatial transmission, and codes. Training and validation of the agent is accomplished using the Fuse-developed Tactical Airborne Network Simulator (TANS) based on EMANE, a framework for real-time modeling of mobile network systems developed by the Naval Research Laboratory.
This year, MILCOM—short for a conference about "military communications"—will be held in Norfolk, Virginia, in mid-November. This conference brings together military and government leaders with industry professionals. MILCOM 2019 is sponsored by AFCEA International and IEEE Communications Society and is expected to focus on "Defining Multi-Domain Command and Control."
Stay tuned for more information about Fuse at MILCOM 2019 as the conference draws nearer!