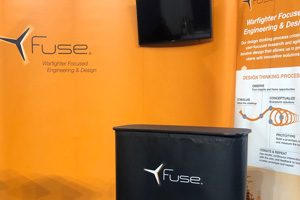 (April 12, 2019) — Fuse's blazing orange booth and representatives from our team traveled across the country to Lowell, Massachusetts, this week to participate in the 2019 Navy Forum for SBIR/STTR Transition (FST). This year, the Navy FST was located at the Tsongas Center at UMass Lowell, a leading research institute in the New England region helping to mobilize government, industry, and academic innovators. The forum took place Wednesday and Thursday, April 10th and 11th, from 8:00 am to 5:00 pm, with tours of UMass Lowell's research facilities on Tuesday and Friday.
This year Fuse's orange booth was number 103. Our team participated in a Tech Talk in the Tsongas Center's Club Room North on Wednesday, during which we presented our topic addressing the room's cluster subject, "Mission Execution/Risk Analysis Software Tools." Specifically, we presented and discussed our tactical data link troubleshooting software, T3, and its transition and application to the US Navy Command and Control Program Office (PMW 150).
Fuse's orange booth and representatives are now headed back to San Diego, where the rest of our team has been working diligently to continue building and improving our hardware and software solutions for the warfighter.