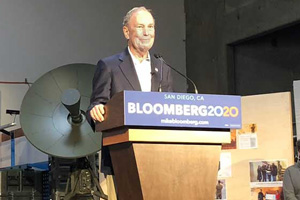 Fuse was visited today by Presidential candidate Mike Bloomberg. We were honored to have him visit Fuse along with Congressman Scott Peters, two local City Councilmen, and other prominent veteran business leaders from San Diego. Mr. Bloomberg spent time at Fuse to discuss our challenges as a veteran-founded small businesses and then to present the primary concepts of his approach to veterans programs under his campaign.
It is a positive sign that Presidential candidates are coming to small businesses and talking about the positive impact veterans can have in the workplace and in our economy. Fuse is proud to continue a streak of growth as we move into 2020, and our warfighter-focused approach to engineering and design is setting our work apart from traditional defense firms.
"Who better to build systems for warfighters, than warfighters," said Mr. Bloomberg in his remarks. At Fuse we are proud to have a staff that is over 40% military veterans, working closely with currently deployed sailors, soldiers, and airmen to deliver solutions that can make a significant difference when they are deployed downrange.
Fuse is a warfighter-focused engineering and design firm based out of San Diego. We provide advanced, secure network and software solutions to aircraft and other mobile platforms deployed to harsh environments. We pay close attention to the user to ensure the timely delivery of elegant, intuitive user experiences.