Mr. Geurts came by the Fuse display at #SAS2021. It was great discussion on #JADC2 and warfighter focused tactical networks. We are excited to be a part of the team of innovators changing the way we fight future wars.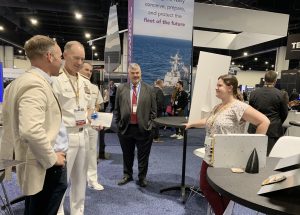 Naval Aviation remains at the tip of the spear, and our team is working tirelessly to advance the capabilities of our tactical, C2, and ISR aircraft as they operate at the tactical edge. VADM Dean Peters, we are hard at work to keep your pilots, aircrew, and platforms safe, and functioning like a well-oiled machine into the future. Integrated networks are critical to maintaining our advantage in the air and on the sea. The Fuse warfighter-focused approach to design, engineering, and rapid prototyping will keep driving innovation into the fleet!
We were excited to have an "11-star day" at the conference and proud that our team is getting the attention of senior leadership and forward thinking technologists across the Navy. We look forward to working with you, bringing together NAVWAR and Naval Air Systems Command (NAVAIR) to deliver advanced capabilities to sailors and aviators deployed around the world.