(May 22, 2019) – Fuse is excited to announce that we have moved our global headquarters to a new location in Kearny Mesa, a community of San Diego just north of downtown.
Our team's hard work and dedication to warfighter-focused engineering and design has led to growth that required that we take action to accommodate it. Fuse's new space, located within the 805/163/Clairemont Mesa Boulevard triangle, gives us more space for design, development, and production. We are excited to continue cultivating our team in our new combined office and production space.
---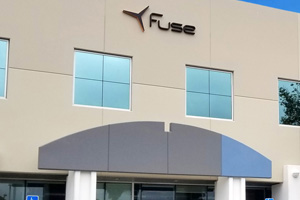 Fuse's new headquarters, located just north of downtown San Diego in Kearny Mesa.
---
While this unfortunately meant that we had to part with our previous location at the historic and quirky Warehouse 1425 in Makers Quarter of East Village, our team will always consider itself part of the creative community downtown. Warehouse 1425 provided us with an engaging space that encouraged growth for our startup. Our innovative products, such as CORE® and our software solutions, are starting to make an impact on the defense industry and encouraging the Navy and joint services to deploy more dynamic and adaptive networks and systems.
Best wishes to Warehouse 1425 and the Makers Quarter community. We are proud to share our history with you and look forward to hearing more about the continued advancement and success of East Village. We are makers at heart and will forge a path forward by spreading the maker mentality as we make our new space up north our home!
Stay tuned for an announcement in the future about a Fuse open house event.