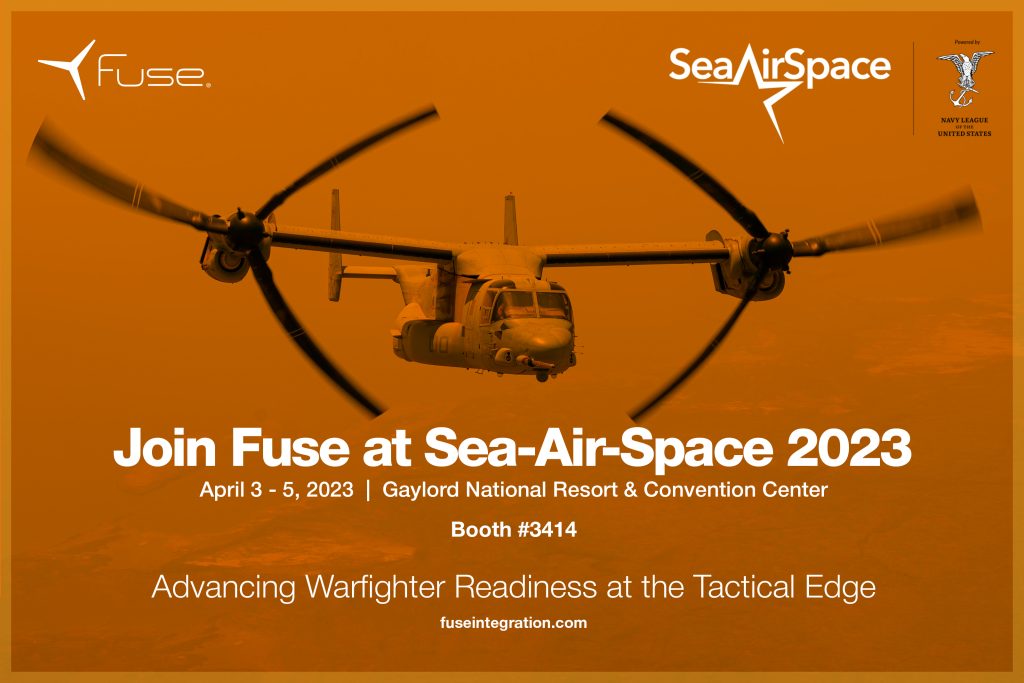 Fuse will highlight its modular tactical edge networking products at this year's Sea-Air-Space conference April 3–5 at the Gaylord National Resort and Convention Center in National Harbor, Maryland. Owned and produced by the Navy League of the United States, Sea-Air-Space attracts maritime leaders from sea services around the globe. Fuse will showcase its virtualized network systems, tactical edge networks and airborne networking gateway products at Booth #3414. A Fuse video case study will also be featured at the Navy STP Showcase booth.
"The evolving and escalating global threat environment affects all sea services as well as ground and air forces. Winning in the new battlespace will take defense-industry innovation and cross-force collaboration to keep warfighters connected, across all domains," said Sumner Lee, CEO of Fuse. "We are looking forward to showcasing our advanced tactical edge communications solutions that are already making a difference for the defense community."
FUSE BOOTH
Booth #: 3414, located in the Maryland Room
Demo*: Tactical Technologies Toolset (T3) remote network monitoring and management solution
Models: DARE airborne networking gateway (1/3 model) and CORE® virtualized network system
Resources: JADC2: Tactical Edge Networking to Win in Great Power Competition [white paper]
*Reporters can request private demos via jbosc@boscobel.com or text/call 301-717-9529
NAVY STP SHOWCASE
As part of the Navy SBIR Transition Program (Navy STP)-hosted Navy Forum for STP Innovative Technology Showcase (Navy STP Showcase), Navy STP will feature a Fuse on-demand video case study.
Navy STP Showcases promote mature technologies from companies participating in the Navy STP, connecting these small businesses with government and industry personnel through on-demand Tech Talk presentations and an enhanced online presence through the Navy STP Virtual Transition Marketplace (Navy STP VTM).
Booth #: 537, located in Prince George's Exhibition Hall A-E
Date: Monday, April 3
Track: Command, Control, Communications, Computers, & Intelligence (C4I)
Topic | Title: N202-092 | Small Space, Weight, and Power (SWaP) Multilevel Security Cross-Domain Solution
Description: Case study of a Fuse-developed multilevel security/cross-domain solution (MLS/CDS) prototype that helps address the Navy's capability gap regarding stove-piped solutions and cybersecurity concerns in a singular, ruggedized solution. Built on the Fuse CORE virtualized network system, the small SWaP solution is being developed for the E-2D Advanced Hawkeye platform.
Link: https://youtu.be/PQfUya1YY6k
About Fuse Integration
Fuse is a warfighter-focused engineering and design firm providing innovative communications, networking and computing solutions for defense customers. The company's virtualized network systems, tactical edge network and airborne networking gateway products improve the sharing of information, video, text and voice among warfighters throughout airborne, maritime and ground environments. Founded in 2010, Fuse is a service-disabled veteran-owned small business with headquarters in San Diego and a corporate office in Washington, D.C. www.fuseintegration.com